Loading speed is a hot topic in software development industry, with designers and developers using more advanced tools and techniques to make websites more appealing to visitors, the other side is that how loading pages with download consuming videos, images, animations and scripts can affect user experience and even have negative impact on the brand itself.
One of companies which realized long ago how speed performance affects user experience is Facebook. The company, in matter to make their employees understand this issue better and be more empathetic to users with low connection speed, introduced '2G Tuesdays' – The program which simulates 2G speed connection. The Facebook employees logging in to the app on Tuesdays have an option to change for an hour for low speed connection. One of the results of the program was developing in 2015 Facebook Lite, an app version for users with slower connection speed.
Scientific Research
In 2019, tests has been conducted by Ericsson, in collaboration with Neurons, to determine relevance of diverse media assets loading speed on users stress level.
Website loading speed test
In this test a group of users from Scandinavia were tested using mobile devices. The participants were wearing eyeball tracking glasses, EEG monitoring and heart rate tracking devices. The users were presented with custom websites which had different load speeds implemented, to simulate lower connection speeds or load heavy sites. The test was looking for both conscious and unconscious emotional responses of people tested.
The results shown that just after 2-3 seconds of website loading delay, both unconscious and conscious responses had shifted vastly. Average 44% increase of heart rate was observed during delays. Additional lose of motivation and stress load were observed. Interesting fact was that even after those observations most of participants claimed, after the test, that they could tolerate 5 seconds delay.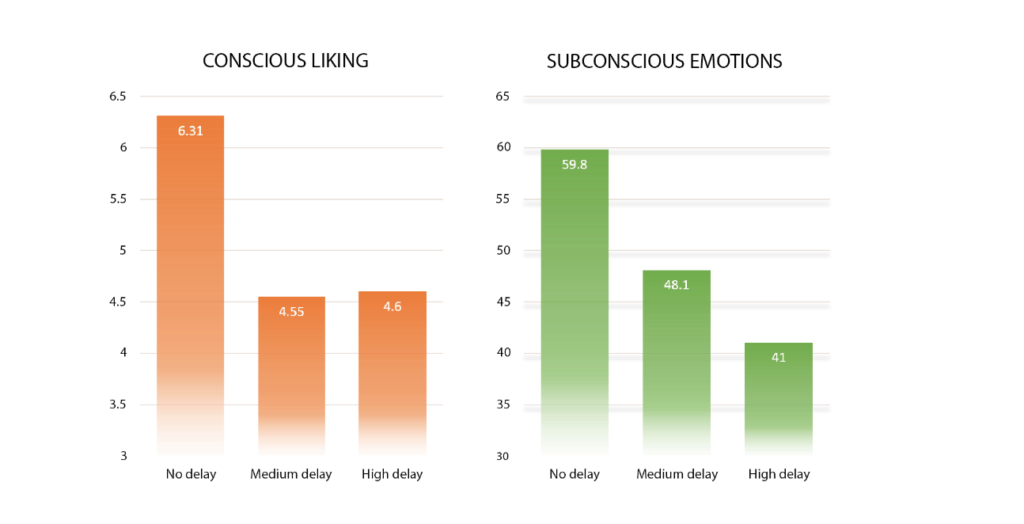 Participants were also tested using the same tracking devices, what is their response to other states and content, in order to compare most similar reactions and state to above web loading speed delays. The results shown that most similar response of loading speed delays was to watching horror movies. The other test conclusion was that content loading speed has negative effect on how users see brands associated with slow loading websites.
Cultural differences
Second test, carried out with same parameters to previous one, was conducted to determine influence of cultural differences on slow loading speed response of users.
Two groups of participants from Germany and Indonesia took part. The result shown that the Europeans responded to slow load just after 1 second, when at contrary, it took 9 seconds for Indonesians. The final emotional response was the same: increase heart rate, emotional negativity, and cognitive overload, however it is important to remember, that it took significant different time for different culture to reach this state.
Delays in VR
Another test conducted, determined affect on loading speeds 'lags' in VR applications compared to similar issues on desktop machines. 64 users, of various gaming experience and age, played FPS game in Virtual Reality and then played similar game on desktop screen. The loading speed and game 'lags' were manipulated.
The results shown that playing in VR was more stressful then on computer by on average 42%, however when the performant of game was low with high delay the stress level went over 100% more compared to the same performance on PC. Enjoyment of the game on both platforms also went from positive to disliking emotions when the delays increased.
Conclusion
The above tests results prove importance of making content load speed one of the the key factors to consider when producing computer software like websites, games and applications. Matter of just a few seconds can change impression of how user experience the application, from positive feeling switching into negative emotions.
Resources:
https://www.neuronsinc.com/cases/ericsson
https://www.theverge.com/2015/10/28/9625062/facebook-2g-tuesdays-slow-internet-developing-world